Civil Structural Engineering
Civil Structural engineering services include:
Traditional structural analysis
Finite Element Analysis
Computational Fluid Dynamics.
Planning and Building Regulations applications
Development and Testing of Bespoke Structural Components
Design and development of 3D scaled models from CAD models
Simulations and Drawings
The types of FEA and CFD analysis methods available are as follows:
Structural FE Analysis - 3D Design, Explicit and Implicit, Linear and Non-Linear, of Steel, Concrete, Timber and Composite structures including:
Static analysis
Buckling
Nonlinear
Linear Dynamic
Fatigue analysis
Pressure vessel Design
Scaled model building
Wind Tunnel model testing and analysis of results
CFD - External and Internal Flow simulation, including:
Determination of drag and lift coefficients around building structures
Heat Transfer
Ventilation
Mixed Flow Simulation
Fluid-Surface Interface (FSI)
Design to prevailing codes of practice
Development of Innovative Structural Solutions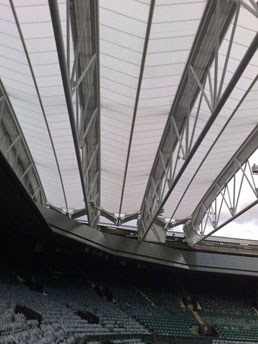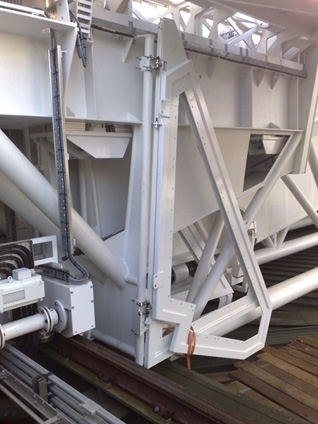 Case Studies for some recent applications of Civil Engineering
Please see some recent applications relating to our work in Civil Engineering - Click on thumbnails to see a larger image and slideshow.
Wimbledon Centre Court Moving Roof Structural Design
Geodome Ltd was tasked with development by means of Finite Element Analysis and CAD simulations of Wimbledon Centre Court moving roof trusses.
The principal tasks involved both Static Linear Analysis and scaled model construction. The scaled model enabled visualisation of the movement of the trusses when operated by means of the End-Arms. The End-Arms can be seen at the end of the trusses in the accompanying images.
The Research and analysis effort culminated in a series of CAD and physical models that enabled the design of the final structure of the truss moving assemblies.
Steel Frames
Geodome had been involved with the design of a variety of steel framed structures including: Commercial Buildings, Pressure vessel supports, Floating structures, Off-Shore Jacket structures and Domestic Buildings. The following images demonstrate some of these projects.
Structural Innovation
The Modular Composite Geodesic Dome
Geodome Ltd had developed a modular Geodesic Dome, funded by a DTI SMART and SPUR awards.
The frameless structure was composed of a series of inter-locking modular Structurally Insulated Panels (SIP) that enabled both rapid assembly and high thermal efficiency.
A 5.5m diameter technology demonstrator was erected at Kingston University.
Development and Testing of Structural Joints
Several structural joints were developed by Geodome for application in modular panel systems.
As part of this R&D effort, tensile tests were conducted on interconnecting Structurally Insulated Panels that comprised of alloy extrusions bonded to glass fibre skins, with Polystyrene cores.
Results demonstrated the high capacity that a bonded joint could develop. The design was incorporated in the Geodesic Dome technology demonstrator.
Low Rise Building Design and Alterations
Geodome has provided Design and Analysis services for domestic and low rise structures, including:
Conceptual 3D CAD design
Generating drawings for Full Plans application
Generating structural calculations and drawings for full Plans application
Management services
Conceptual Designs
Geodome had been invoved with the conceptual development of several new structural designs, ranging from domes to a variety of foot bridges.
The conceptual designs were generated in CAD and then subjected to FEA. In some cases, 3D rapid-Prototype models were built from the CAD models, for better visualization of the emerging product.
Floating Foot bridge
In order to maintain navigable height over the river thames, a floating foot bridge was conceptually designed.
Foot Bridges
Several conceptual foot bridges had been designed, including stressed skin and traditional steel framed structures.
Railway Foot-Bridge
Tree-Foot Bridge
A stressed skin foot bridge consisting of a series of large steel Hemispheres was designed and analised by means of FEA. The hemispheres were designed to accommodate trees in order to maintian a natural continuation between parks either side of the bridge.
Geodesic Structures
A geodesic Bat-home was desigened for entry into a RIBA competition. The essence was to allow visitors to observe the bats habitat from within.
CFD Simulations and Environmental Analysis
Environmental modelling of buildings, heat transfer and assessment of 'U-values' have been determined for a variety of building forms. These include cavity walls, thermal bridging effects and internal and external flow around buildings and within pipes and ducts.